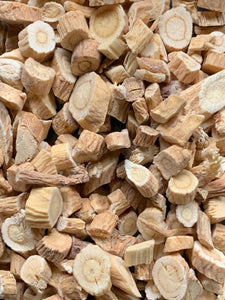 Astragalus is an ancient element of traditional Chinese medicine, it is also native to Mongolia and North Korea. It has been used for centuries and highly valued as a classic Chinese herbal and energy tonic.
As part of your apothecary or witchy herb collection, astragalus can be an efficient day to day medicine for uncommon spiritual patterns that are tough to combat. Burning the root as part of an incense blend can be used to guard your living space and increase the flow of vital energy within your body. Astragalus Root is generally used in spells to help with concentration and in rituals to help participants focus their energies. It is a great addition for spells or rituals related to hex breaking and protection. It is often used in dedication and self-initiation rituals. Keeping a dried root of this herb in areas of your home brings energetic and physical health, abundance and peace.
Practicing purification ceremonies with Astragalus before doing your magickal workings boosts connection to the higher elementals, goddesses, universe, aether, so use within your sacred space or altar as an offering to the deities to invite guidance from the spiritual realm. Place astragalus alongside other dried herbs in a sachet or put them in your dream pillows and spell bags. In this way, you can keep yourself away from harm when you are unconscious and most vulnerable. A good one to use in charms to wear every day to defend yourself against disturbing conundrums that may disrupt your busy day. Creating own elixirs and blends will also break hex chains, a great one for bath teas and spell bottles. While also it can be used spells to help you focus your energies on things that bring self-advancement to you and your family.
In Short:
Magick: Hex Breaking, Purification, Spiritual Realms, Psychic Protection, Concentration, Focus, Energy, Self-advancement
Planet: Jupiter
Sign: Libra
Element: Air
Energy: Masculine
Deities: Any (as an offering), Elementals
Comes in a sealed bag weighing approximately 25g