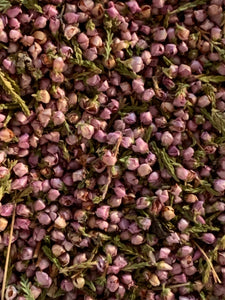 Heather through the ages has been regarded as a lucky flower, I don't know if any of you remember travelling callers selling lucky heather? It is also magickally used for guarding against violent crimes. Use in sachets or poppets for bringing luck and protection. Used for also conjuring ghosts and spirits. When burnt with ferns is said to bring rain.
They would look pretty when added to soaps or candles so fab for crafters.
Keyword: Spirit connections, Luck, Protection
Gender: Feminine
Planet: Venus
Element: Water
Deities: Isis, Freya, 
Day: Friday
Comes in a re-sealable bag and weighs approximately  14g (1/2oz).