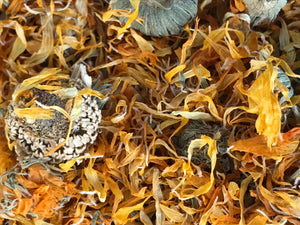 Marigold brings a little sunshine into your Magick, which is maybe why it is also known as Bride of the Sun, hence this is ruled by the Sun. It is associated with the element of fire and the sign Leo. Use during Beltane and Samhain celebrations/rites, can be used on your altar to invoke Goddess. Deities associated with Calendula are Oshun, Apollo, Lakshmi, Helios.
Used for when you are juggling legal matters to bring luck and fair outcome. Attracts respect and admiration, so may be useful for work. Looking for "Mr/Mrs" Right? Place in your bath (alongside some scrummy essential oils - Ylang Ylang and patchouli perhaps?) for five days and relax into the intention of who you seek. Use in any or all love spells. Also may be added to sachets, amulets or burned as incense to find new love or to add a bit of pep to your current relationship. When placed in dream pillows may assist with prophetic dreaming, or scatter under the bed for protection as you sleep. Use strewn around your circle to consecrate and aid protective sight. Got a cold? Infuse marigold into a tea to help aid recovery. 
In short: Magick: Legal Matters, Protection, Prophesy, Dreams, Manifestation, Beltane & Samhain, Celebration.
Element: Fire
Planet: Sun
Gender: Masculine
Sign: Leo
Deities: Apollo, Oshun, Lakshmi, Helios, Freyr, Hepa, Lugh, Sol, Dazbog, Gullveig, 
Comes in a sealed bag weighing approximately half an ounce (14g) .